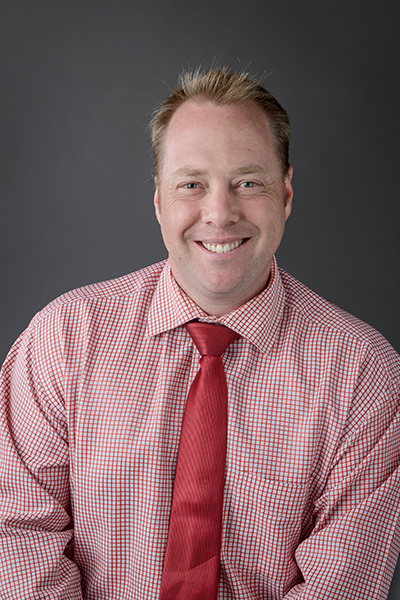 Headmaster's Welcome
Welcome to Riverview Preparatory School! I have been involved in education both part and full time for over 24 years, and in that time I have taught at schools all over the world. It is common for headmasters to tell people that their school is 'unique' and they are not lying. Every school is unique and the children are wonderful. But when I say that Riverview is unique, I mean it in every sense of the word.

When visitors enter our gates, the first impression they have is one of warmth – and I don't just mean the weather! They are blown away by the confidence, politeness and happiness of our students, as well as the beauty of our little campus. And that is it in a nutshell. Riverview, quite simply, is just a very happy little school - from the students to the teachers to the parents. We have scrapped detention because there is no need for it – happy kids don't act out.
We have embraced a culture of 21st Century education based on international best practice focusing on how childrens' brains function, and how we can best create lessons around this knowledge that suit the learning styles of each individual child. We have re-looked at important concepts like homework and re-designed our approach to allow children time to play. Our classes are small – no bigger than 21 children at their biggest – which means we are able to offer one-on-one teaching and a cozy, family-oriented environment second to none. The success of our school is often indicated in the amount of children who go on to become head and deputy head boys and girls of other prestigious high schools around the country.
On the sports field we constantly punch above our weight, often surprising schools three or four times our size. We offer all the major school sports – cricket, rugby, soccer, swimming, athletics, netball, cross country, tennis (coming soon) – as well as a golf lessons at our academy, for an extra cost.

Our school has become renowned for our magnificent annual stage productions such as Joseph and the Amazing Technicolor Dreamcoat and Annie. Our phenomenal Senior Prep Choir recently achieved Gold and Prestige awards at the Nelspruit and National Eisteddfods (as did many of our children for their individual performances) and we also offer private piano, voice, guitar and clarinet lessons.

Most importantly, Riverview is unashamedly Christian. Although we welcome all faiths to our school it is our Christianity that informs all our actions. It permeates our school. There is prayer in class every day, Praise and Worship on Wednesdays and a church service at the end of each term. Our children and staff of highly qualified and expert teachers all live our core values of Love, Integrity and Faith.

Welcome to Riverview. If you have decided to send your child here then I congratulate you on a wise choice. You have guaranteed yourself a truly happy and wholesome child for the duration of their stay with us.

Mr Gareth Dry
Headmaster
Welcome to Riverview Preparatory School
Welcome to Riverview Preparatory School! I have been involved in education both part and full time for over 24 years, and in that time I have taught at schools all over the world. It is common for headmasters to tell people that their school is 'unique' and they are not lying. Every school is unique and the children are wonderful. But when I say that Riverview is unique, I mean it in every sense of the word.

When visitors enter our gates, the first impression they have is one of warmth – and I don't just mean the weather! They are blown away by the confidence, politeness and happiness of our students, as well as the beauty of our little campus. And that is it in a nutshell. Riverview, quite simply, is just a very happy little school - from the students to the teachers to the parents. We have scrapped detention because there is no need for it – happy kids don't act out. We have embraced a culture of 21st Century education based on international best practice focusing on how childrens' brains function, and how we can best create lessons around this knowledge that suit the learning styles of each individual child. We have re-looked at important concepts like homework and re-designed our approach to allow children time to play. Our classes are small – no bigger than 21 children at their biggest – which means we are able to offer one-on-one teaching and a cozy, family-oriented environment second to none. The success of our school is often indicated in the amount of children who go on to become head and deputy head boys and girls of other prestigious high schools around the country.

On the sports field we constantly punch above our weight, often surprising schools three or four times our size. We offer all the major school sports – cricket, rugby, soccer, swimming, athletics, netball, cross country, tennis (coming soon) – as well as a golf lessons at our academy, for an extra cost.

Our school has become renowned for our magnificent annual stage productions such as Joseph and the Amazing Technicolor Dreamcoat and Annie. Our phenomenal Senior Prep Choir recently achieved Gold and Prestige awards at the Nelspruit and National Eisteddfods (as did many of our children for their individual performances) and we also offer private piano, voice, guitar and clarinet lessons.

Most importantly, Riverview is unashamedly Christian. Although we welcome all faiths to our school it is our Christianity that informs all our actions. It permeates our school. There is prayer in class every day, Praise and Worship on Wednesdays and a church service at the end of each term. Our children and staff of highly qualified and expert teachers all live our core values of Love, Integrity and Faith.

Welcome to Riverview. If you have decided to send your child here then I congratulate you on a wise choice. You have guaranteed yourself a truly happy and wholesome child for the duration of their stay with us.

Mr Gareth Dry
Headmaster
Our Values
Motivation
Consistency
Self-worth & Growth
Trustworthiness
Responsibility
Transparency
Hard work
Faith
Love
Integrity
Justice & Fairness
Loyalty
Humour
Dignity & Respect